For someone who wants to stand out and not take a conventional wedding route, a destination wedding is one way to make your wedding a different one. But for a destination wedding the 'place' becomes even more important. Wouldn't 'God's own Country' be the perfect choice then? Taking the vows amidst the greenery and backwaters of Kerala with God's divine presence will make your wedding a truly blessed event. Pick a Destination Wedding Planner in Kerala to make your destination wedding a truly unforgettable event.
Within Kerala too if you're looking for something unconventional, Kozhikode is your perfect spot. Rich in history and blessed with natural beauty it would provide an impeccable backdrop for an unforgettable wedding. This scenic town is close to Kappad Beach and houses several exotic and luxurious resorts to fit the budget of any destination wedding.  The central Kozhikode Beach, overlooked by an old lighthouse, the inland tree-lined Mananchira Square, with its musical fountain and the massive Mananchira Tank which is an artificial pond and the Kappad Beach too would prove to be great spots for some pre wedding and wedding captures! You can have the wedding itself on one of these spots too. Some of the Best Wedding Planners in Kerala recommend this spot because of its scenic beauty coupled with the peacefulness that it provides. Both of these are a must needed feature in any wedding. If Destination Wedding Kerala is your top choice then Kozhikode should definitely be your final choice.
Watch:

Video Summary About Kozhikode District
How Weddingplannerskerala.Com Help You To Plan Your Wedding In Kozhikode?
A wedding can become stressful if things aren't planned in advance and everything isn't taken care of at the right time in the right way. Having a different organizer for everything could lead to confusion and chaos, which is why hiring one of the Best Wedding Planners in Kozhikode, would be a wise choice. Weddingplannerskerala.com is one such Destination Wedding Planner in Kerala who can make services available and accessible in Kozhikode without you having to worry about what to wear, who to meet or even how to take care of the guests. Here's how we are the Top Wedding event Organizers Kozhikode can offer
Everything under one roof
All the things that you can possibly think will be required during your wedding can and will be taken care of by weddingplannerskerala.com. We will provide consultation on what would be best suited after understanding your needs and your budget. We will talk to the vendors, designers, photographers, decorators and even send out the invitations on your behalf. So all your wedding needs will be taken care of under one roof without you having to fret about things like 'what to wear' or 'matching accessories and footwear' or even 'which hairstyle would suit you best'
Our services are not limited to just answering the needs of the bride and the groom, we even cater to needs of the immediate family members and the guests too! Our aim is to ensure the satisfaction of the hosts as well as the guests.
Cheap on the pocket but pleasing to the eyes
Our services are reasonably priced to fit the budget. But this in no way comes in the form of cheap services. Our décor and our mannerism remain classy no matter what you pay us!
List of  Our Top Recognized Service vendors in

Calicut

that we can provides for the Wedding Arrangements 
Our List of  Wedding Photographers in Kozhikode
Paparazzi Estudio, Red Cross Rd, Near Tagore Centenary Hall, Off Beach Road, Kozhikode, Kerala 673032 
Oaks Wedding , PT Usha Road, above Cafe Coffe Day, Kozhikode, Kerala 673032
Studio Pepperlight, NH212, Nadakkave, Kozhikode, Kerala 673011
Central Studio And Colour Lab Mavoor Rd, Opposite New Bus Stand, Arayidathupalam, Kozhikode, Kerala 673004 
Phototec Digi Studio & Color Lab, Eroth Centre, Bank Road,, Kozhikode, Kerala 673032
Middlemist School Of Art And Photography, Thayyil Arcade, Opp Coronation Theatre, Kottapparamba Road, Kozhikode, Kerala 673004 
Snehanjali Digital Studio, Chebbus Building, Kannur Rd, West Hill Junction, West Hill, Kozhikode, Kerala 673005
Wedding Photography by Jino & Midhu Calicut, Kerala
Exotic Frames, 673004 Kozhikode (Calicut), India
Jainkunnath photography, Photographer in Kozhikode (Calicut), India 
Take Productions, Ramattukara byepass-Calicut.
RD Creations, Photographer in Kozhikode (Calicut), India 
Sathian Clt photography, Photographer in Kozhikode (Calicut), India
Our List of Hotels and Resorts in Calicut for Weddings Kerala
Westway Hotel, Kannur Road, West Nadakkav, Kozhikode, Kerala 673006 
The Gateway Hotel Calicut, PT Usha Rd, Vellayil, Kozhikode, Kerala 673032
Westway Hotel, Kannur Road, West Nadakkav, Kozhikode, Kerala 673006
Beach Hotel, Beach Rd, Mananchira, Kozhikode, Kerala 673032 
The Gateway Hotel Calicut , PT Usha Rd, Vellayil, Kozhikode, Kerala 673032
Hotel Maharani, Thalook Office Rd, Near Maharani Hotel, Op. Sahakarna Bhavan, Puthiyara, Kozhikode, Kerala 673004 
Khaleej Residency, Khaleej Mall, Mini Bypass Road, Near M.I.M.S Hospital, Govindapuram, Kozhikode, Kerala 673016
The Raviz Resort & Spa Kadavu, NH 17, Calicut Bypass Road, Azhinjillam, Kozhikode, Kerala 673632
Vasco Dagama Beach Resort Kappad Beach, Chemmancherry Village, Kappad PO, Calicut, kerala, Kerala 670304 
The Raviz Calicut 5/3410, Mavoor Road, Kozhikode, Kerala 673004
Copper Folia , Thondayad Bypass Road, Nellikkode, Kozhikode, Kerala 673016 
Renai Kappad Beach Resort Chemancherry PO, Thoovappara , Kappad, Kozhikode, Kerala 673304
Hotel Marina Residency, Marina Residency, Kozhikode, Kerala 673004 
Sharoy Resorts, Bible Land Post, Manjoora, Wayanad Dist., Kalpetta, Kerala 673575
White Water Woods Resort, Marippuzha Rd, marippuzha, Kerala 673603
 Coffee County Resort, Nallannur- Meppadi, Wayanad, Kerala 673577 
Our List of Auditoriums / Convention centers in Calicut for Weddings
JDT Islam Auditorium and Conventional center, Vellimadkunnu, National Highway 212, Vellimadukunnu, Kozhikode, Kerala 673012 
Ashirvad Lawns, Eranhipalam Road, Karaparamba, Kozhikode, Kerala 673010 
Mehendi Auditorium, Kozhikode – Palakkad Hwy, Kondotty, Kerala 673638  
Tagore Centenary Hall, Red Cross Rd, Mananchira, Kozhikode, Kerala 673032  
Shangri Laa Convention Centre, E Malayamma Mampatta Rd, Muthalam, Kerala 673572  
New Castle (C C Hall), Mananthalapalam,Francis Road, Francis Road, Thekepuram, Kuttichira,, Kozhikode, Kerala  
Malabar Marina Convention Centre, Near Ferokh Old Bridge, Feroke Madurabazar Road, Cheruvennur, Kerala 673027  
AGP Garden Heritage Hall- Auditorium in Kozhikode (Calicut), India THONDAYADU
673017 Kozhikode (Calicut), India  
Sree Narayana Centenery hall, SK Temple Rd, Tazhekkod, Kozhikode, Kerala 673004  
Royal Arcade Convention Centre, Hanging Bridge, Kozhikode-Mysore-Kollegal Highway, Vennakkad, Kerala  
List of Catering Service Providers in Calicut for Wedding '
Hot N Sour Caterers, C/O Narayan cafe, Kammth Lane, Kozhikode, Kerala 673001  
Chandus Catering Calicut/Kozhikode, #34/1563 A, Karparamba, Karikkamkulam, Kozhikode, Kerala 673016  
Paragon catering service Calicut, Near CH Over bridge, Kannur Rd, Kozhikode, Kerala 673001  
Friends Hire & Outdoor Catering Service, Francis Rd, Idiyangara, Thekepuram, Kuttichira, Kozhikode, Kerala 673001
Chandus Catering Calicut/Kozhikode, #34/1563 A, Karparamba, Karikkamkulam, Kozhikode, Kerala 673016
Sooraj catering service Calicut, Kannur Rd, West Hill, Kozhikode, Kerala 673005
My Gramin Food Specialist Mini byepass road, Majestic Centre, Near Baby Memorial Hospital Chathamangalam, Kozhikode – 673601
Chillies Catering Services Pvt Ltd No 4/323 Sudarsan Building, Near Providence Girls School Gandhi Road, Calicut Medical College, Kozhikode – 673008
Malabar Kitchen Outdoor Catering No 4/242, A G Road Calicut Beach, Kozhikode – 673032  
Top Taste Food & Catering Service Dream World Complex, Near Baby Memorial Hospital Mavoor Road, Kozhikode – 673004  
Classic Catering Service 4/323 Sudarshan Building, Gandhi Road Calicut Ho, Kozhikode – 673001
Friends Catering Unit C/O Friends Hire & Outdoor Catering Service Francis Road, Calicut Ho, Kozhikode – 673001  
13. Calavara Foods And Caterers in Kozhikode Kirtads, Golf Link Road Chevayur, Kozhikode – 673017  
Our Wedding Stage Designers & Decorators in Calicut
Ad-Vent Ures Incorporation, IInd Floor, V.P. Complex, Wayanad Rd, East Nadakkave, Nadakkave, Kozhikode, Kerala 673011  
Crayons Venue Decorations & Flower Designers in Kannur and Calicut 2nd Floor, Supex Corner, Sub Registrar Office Road, Kannur, Kerala 670002  
Amala Decorations, K.J.S Oomplex, Opp. Tagore Centenary Hall, RC Road, Calicut – 32
OWC Wedding Stage Decorator , Door No 08/307, Corporation Office Road,
Calicut – 673032  
Fingers Decoration And Events, Church Building, Church Road, Thiruvambadi, Kozhikode – 673603, Opposite Cooperative Bank
Amma Decorations, Puthiyara, Kozhikode Kerala  
Kohinoor Decorators Mavoor Road, Kozhikode – 673001
Malabar Decoration, Thalakolathoor, Kozhikode – 673317, Near GMLP School
Bubbles Art Balloon Decors, PHOENIX, KOZHIKODE, Mavoor, Kozhikode – 673661, PHOENIX CLUB  
Hallmark Celebrations, Vinusree, Menikunnath Paramba, Kottooly, Kozhikode – 673016, Near Kottooli U P School
Our  list of Wedding Card Service Providers in Calicut
Invito Cards, Mora Complex Opposite New Bus Stand, Mavoor Road, Arayidathupalam, Kozhikode, Kerala 673004
Smitha's Cards No:13/507 B8, Yamuna Arcade, Kallai Rd, Opposite Whitelines, Palayam, Kozhikode, Kerala 673002
Jayaram cards    Palayam Junction, 18/155, Kallai Road, Palayam, Kozhikode, Kerala 673002
Valavi Cards Changuvetty, Kerala 676501
Jayaram Cards , Court Rd, Vellarangal, Manjeri, Kerala 676121
Our List of Bridal and Groom Hair Stylists in Calicut
Image Parlour, Mini Bypass Rd, Puthiyara, Kozhikode, Kerala 673004  
LINTAS BEAUTY SALOON & Bridal Studio 28/3854, A & B Oriental Tower, Mavoor Road, Pottammal, Kozhikode, Kerala 673016
La Broiche | Ladies / Bridal Beauty Parlour in Calicut, P.M Kutty Road, East Nadakkavu, Kozhikode, Kerala 673006  
Better Half Beauty Salon, Off Red cross Road, Adjacent KRS, Red Cross Rd, Vellayil, Kozhikode, Kerala 673032
Waves Salon (Eranhippalam), Near Passport Office, Mini Bypass Road, Eranhipaalam, Kozhikode, Kerala 673006  
Popyz Beautique & Spa, V K Shantha Corner, Eranjipalam Signal Point, Near Muthoot Finance, Kozhikode, Kerala 673006
Seena Image-Bridal Make Up Artist, MINI BYPASS ROAD,PUTIYARA ,CALICUT 673004  
673004 Kozhikode, Kerala, India
Laura Salon Calicut, Mavoor Road, Upstairs KFC Building 673004 Calicut, India  
Belleza ladies salon Calicut & Bangalore 673577 Kozhikode, Kerala, India
Mehendi beauty parlour, PK complex,ulliyeri 673620 Calicut, India  
Looks& Locks Beauty Salon, Nellikode Housing Colony 673017 Kozhikode (Calicut), India
Our list of Luxury / Semi-Luxury Bus Service Providers For Weddings in Calicut
Bharath Tours And Travels Nadakkave, 1st Floor, K.V.K. Kutty Building, Nadakkave Cross Rd, Nadakkave, Kozhikode, Kerala 673011  
 Great Malabar Travels, Mannathkandy Building, PM Kutty Road, East Nadakkavu, Kozhikode, Kerala 673006
Hasbi Tours & Travels, 17/1510, Ram Mohan Road, Main Road, Police Station, Saudi Tourist Home, Panniyankara, Kozhikode, Kerala 673003  
Poonchola Travels, Government Arts CollegeOpposite Bunglaw Temple, Meenchanda Bypass Road, Kozhikode, Kerala 673018  
Sree Garuda Tours And Travels, Malikkandy Complex, near Kadiyangad Post Office, State Highway 38, Perambra, Kerala 673525
Vivekananda Travels (P) LTD, Sreekanteswara Complex, SK Temple Rd, Kozhikode, Kerala 673001  
The Green Hunters, Sreekandeswara Shopping Complex, Mavoor Road, Temple Road, Near Puthiyambalam, Tazhekkod, Kozhikode, Kerala 673004
Golden Palace Travels and Tours, Ram Mohan Rd, Palayam, Kozhikode, Kerala 673004
Fantastic Tourist Service, No Mp 7/594, Mukkam, Kozhikode – 673602, Opposite SBI Bank  
K P Travels, Uduppi Building, M M Ali Road, Palayam, Kozhikode – 673002, Near SBI ATM
List of Famous Temples in Calicut for Hindu Weddings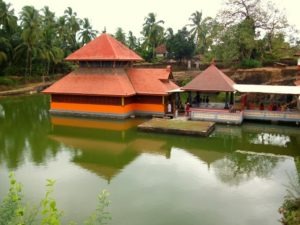 Pisharikavu, Pishaarikavu Rd, Anakkulam, Kerala 673305  
Mannur Shiva Kshethram, Sri Mannur Maha Shiva Kshethram P.O. Mannur, 673 328,, Feroke, Kerala  
Puthukkulangara Temple, Ambalapara Mannur Rd, Vengassery, Kerala 679516  
Thiruvannur siva temple, Thiruvannur, Kozhikode, Kerala 673029
Ponanghotur Subramanya Temple  
Valayanad Devi Temple, Executive Officer, Sree Valayanad, Post Kommeri, Kozhikode, Kerala 67300
Tali Mahakshetram Bridgestone Apartments, Samooham Rd, Markazudaawa, Palayam, Kozhikode, Kerala 673002  
Thalikkunu Shiva Temple, Thalikkunu Shiva Temple Road, Mankave, Kozhikode, Kerala 673007
Thiruvachira Sree Krishna Temple Beypore Rd, Meenchanda, Kozhikode, Kerala 673018  
Azhakodi Devi Temple Thiruthiyad, Kozhikode district
Sreekanteshwara Temple, Calicut Sreekandeswara Building, SK Temple Rd, Stadium Road, Mavoor Rd, Tazhekkod, Kozhikode, Kerala 673004  
Famous Churches in Calicut for Christian Weddings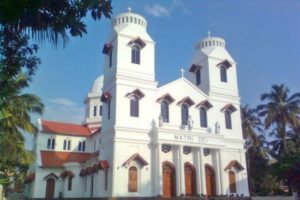 Mother of God Roman Catholic Cathedral, Kozhikode, Convent Road, Mananchira, Kozhikode, Kerala 673032  
St Mary's CSI Church Manorama Jn,, Kozhikode, Kerala 673011  
CMI St. Thomas Church, PT Usha Rd, Amalapuri, Vellayil, Kozhikode, Kerala 673001
St. Antony's Forane Church, NH 212, Malaparamba, Kozhikode, Kerala 673017
Infant Jesus Church, V Panoli Road, Koombara, Kozhikode, Kerala 673001
Fathima Matha Church, Mini Bypass Road, East Hill, Mini Bypass Rd, East Hill, Kozhikode, Kerala 673010
CSI Cathedral NH212, Tazhekkod, Kozhikode, Kerala 673004
Holy Redeemer Church New building, JDT Commercial Complex,JDT Arts College Building, 33/1537-A9, NH212, JDT, Vellimadukunnu, Kozhikode, Kerala 673012
Service Areas
We provide Wedding Planning and event organizing services across Kozhikode district the major service areas including Balussery, Cheruvannur Nallalam, Madappally, Vatakara, Feroke, Koduvally, & Ramanattukara.  Contact our customer support number at +91-8943906399