Contact Today for Destination Wedding Event Management and Stage Decoration Service in Thrissur. Our Wedding Stage Decoration Starts at 9999. Call Today for Wedding Planning Service in Thrissur.
We offer wedding planning and event day coordination service in Thrissur, Kerala. Connect us if you have a requirement.  The place and the outfit are two of the things that hold the most importance for a bride on her wedding day. Therefore at least a girl would want to have a wedding at a place which will make it a memorable one. If divine blessings and the true essence of Kerala is what you have in mind for your wedding, then Thrissur is your answer for a Destination Wedding Kerala.
A wedding is something a girl dreams or plans about from the time she attains maturity. Right from what kind of clothes she'll wear to which song she'll dance to, every detail is thought and planned well in advance, at least by the bride. What place could provide a scenic setting and God's blessing coupled together better than God's Own Country Kerala.
Call: 8943906399 , 9995685289
---
Watch: Video Summary about Thrissur District
Thrissur is a famous for its sacred sites and colorful festivals. The Vadakkumnathan Temple at the center of town is dedicated to Lord Shiva and adorned with murals. In case a temple wedding is on your mind, this would be an ideal one for it. If not your wedding you could just have a soulful and spiritual photo shoot in here too.
The ornate, Indo-Gothic               Our Lady of Dolores Basilica would provide for great photographic backdrop for pre wedding and wedding photographs. The Thiruvambady Temple located on the north side of the town is home to several elephants which are the icon of the state. In case you want to capture the essence of Kerala in your wedding and your photos you can pick this spot for your shoot or even for your photos. In case archaeology is something that charms you, the Sakthan Thampuran Palace is your answer as it houses an archaeology museum with bronze statues and ancient coins. The Best Wedding Planners in Kerala too would recommend this town in case you are charmed by history and want an essence of the real Kerala in your wedding.
So now that you are decided on the destination you need someone to plan out the memorable wedding you have in your mind.
Call: 8943906399 , 9995685289
How weddingplannerskerala.com Can Help You With Your Wedding In Thrissur?
Nobody can predict what the future is but with one of the Best Wedding Planners in Thrissur you are assured that things will be taken care of. You can relax just like even you are the guest and not the host with weddingplannerskerala.com handling things right from meeting the right people to organizing the events as well as coordinating between the different teams involved in the planning, management and execution of the tasks. Some of the many advantages our services offer include:
Head to toe all taken care of
From which outfit would suit you best to whether you should get it stitched or buy a readymade one to how your hair should be done and who you should hire as your beautician we will provide guidance as well as the right contacts to ensure that you look your best on your wedding day.
No big hole in the pocket
The best part about us despite being the Top Wedding Organizers Thrissur has to offer is that though we offer the most superior quality services we aren't priced to burn a hole in your pockets!
We aren't the only Destination Wedding Planner in Kerala but we definitely have all the right sources at the right places to make sure all your wedding needs at catered to at the right time by the right person and at the right price.
Call: 8943906399 , 9995685289
List of Top Recognized Service vendors in

Thrissur

that we can provides for the Wedding Arrangements 
Our List of  Wedding Photographers in Thrissur
Talking Pictures, 1st Floor, N P Tower, Guruvayoor Road, West Fort, Thrissur, Kerala 680004  
Picsland Weddings & Events Wedding Photographer Thrissur  
Dreams Wedding Creation , Amalanagar, Thrissur, Kerala 680555  
Jackson James Photography, Sreedurga Nagar, Kanattukara, Thrissur, Kerala  
Cupid Wedding jai nagar, Thrissur- Kuttippuram Rd, Punkunnam, Thrissur, Kerala 680002  
Melodia Events, Flamon Complex Opp:- Le Grand Auditorium Kuriachira-Main Road, Thrissur, Kerala  680006  
Colour House MG Road, Kottappuram, Thrissur, Kerala 680667  
Grace Weddings, St.Antony's Shopping Complex,Kodannur, Thrissur, Kerala 680563  
Wedding Mopics , #01 kallingal complex, thanaveedi road, mullassery, thrissur, Kerala 680509  
Viswam Studio Near Sobha City, Puzhakkal, Thrissur, Kerala 680553  
ClicknFrame XVIII/811, Previnnya Tourist Home, East Nada – Guruvayur  
Dreams Wedding Creation Amalanagar  
Alpha Digital Studio & Video Ottupara, Mullurkara & Erumapetty.  
Collective Wedding Company Pannithadam  
OJO Photography kodungallur  
Creative Eye Wedding Photography Thrissur  
Facefact Weddings Kanjani Road, WEST FORT Junction  
DMARK INDIA Wedding Photographer Thrissur·  
Call: 8943906399 , 9995685289
Our List of Hotels and Resorts in Thrissur for Weddings Kerala
Joys Palace Near Sakthan Bus Stand, TB Rd, Thrissur, Kerala 680021  
Tamarind KTDC Easy Hotel  Regional Theater Rd, Chembukkav, Thrissur, Kerala 650020 
Nilayoram Resorts Painkulam Post Office, Cherutururthy, Thrissur (Trichur), Kerala 679 531
Joys Palace, Near Sakthan Bus Stand, TB Rd, Thrissur, Kerala 680021  
Kadappuram Beach Resorts, Nattika Beach, Thrissur, Kerala 680566 
The Nattika Beach Ayurveda Resort, Nattika Beach P.O., Nattika, Thrissur, Kerala 680566 
Hotel Niya Regency Kanjany Road, Olarikkara, Chettupuzha P.O, Thrissur, Kerala 680012  
Hotel Luciya Palace Marar Rd, Marar Road Area, Thrissur, Kerala 680001 
Eden Valley Lake View Resort Pathazhakundu Dam Rd, Pathazhakundu, Thekkumkara, Kerala 680581 
Hotel Peninsula M. G. Road, Near Ramadas Theatre, Thrissur, Kerala 680001 
Hotel Pooram International Kuruppam Road, Thrissur, Kerala 680001 
Hotel Mangala Towers Near Vadakke North Bus Stand, Paliyam Rd, Patturaikkal, Thrissur, Kerala 680001
Dass Continental Sakthan Nagar, Thrissur, Kerala  
Hotel Merlin International , Opp. Railway Station, Poothole Road, Poothole, Thrissur, Kerala 680004 
Guruvayoor Resorts Behind Parthasarathi Temple, Railway Station Road, Guruvayoor, Thrissur, Kerala 680101 
Hotel Sree Gokulam Residency  NH 45, Pudukkad P. O, Thrissur, Amballur, Kerala 680301  
Hotel Mayura Inn Mannuthy By- Pass Junction, Trichur-Palghat Road,, Thrissur, Kerala 680651 
Bhasuri Inn East Nada, Guruvayoor, Opposite Municipal Bus Stand, Thrissur, Kerala 680101  
Hotel Devaragam Outer Ring Road, Opp Railway Station, East Nada, Guruvayur, Kerala 680101 
Krishna Inn East Nada, Guruvayur, Thrissur, Kerala 680101 
The Nattika beach resort thrissur  
Resort Wedding Organizer in Kerala
Our List of Auditoriums / Convention centers in Thrissur for Weddings
Golden Palace Auditorium Convention Center Thrissur- Kuttippuram Rd, Guruvayur, Kerala 680502  
Puzhayoram International Convention Center  for kerala weddings Eravimangalam, Thrissur, Kerala 680751 
Latha Convention Centre Thrissur NH 17 Valapad, Kothakulam,, Thriprayar, Thrissur, Kerala 680567 
Lulu Convention Centre Puzhakkal, Ayyanthole, Thrissur, Kerala 680003  
Dream City Convention Center  NH – 544, Peechi Road Junction, Pattikad, Thrissur, Kerala 680652 
Jawaharlal Convention Centre Sahakarana Sadabhi Mandiram, Kovilakathu Padam, TUDA Road, Thrissur, Kerala 680020  
Crescent Convention Centre Chalakudy, Kerala 680722 
Thiruvambady Convention Centre, Thrissur Marar Road, Thekkinkadu Maidan, Thrissur, Kerala 680001 
ARV Banquet & Convention Centre Santhipuram, Thrissur, Kerala 68066 
KVM Auditorium Valayamkulam Thrissur- Kuttippuram Rd, Kerala 679591  
Rena Event Hub & Convention Centre 36/1315, Lissie Junction, Banerji Rd, Kaloor, Ernakulam, Kerala 682017  
MCP International Convention Centre  Irinjalakuda, Kerala 680125 
Udyan Convention & Exhibition Centre Near Kent's Nalukettu, Kottankavu- Arkakkadavu Road, Kottankavu,, Vennala, Ernakulam, Kochi, Kerala 682028  
Adlux International Convention Centre, Angamaly, Cable Junction, Ernakulam District, National Highway 47, Karukutty, Kerala 683576  
Le Grande.Main Rd, 1st Block, Kuriachira, Thrissur, Kerala 680006  
Blue Diamond International Convention Centre Shornur-Perinthalmanna Rd, Kerala 679121  
Call: 8943906399 , 9995685289
Luxury / Semi-Luxury Bus Service Providers For Weddings in Thrissur
GOVIND TOURS & TRAVELS Near ESI Hospital, Ollur, Thrissur, Kerala 680306  
Combine Travels Aroma Building, N.H. Pudukad, Pudukad, Thrissur, Kerala 680301  
Sumangalyz Travelmate Chiyyaram, Thrissur, Kerala 680027  
Sugama Tourist Buses to Thrissur (Kerala)  
Sakthan Tours And Travels Ground Floor, Sakthan Arcade, Sakthan Nagar, Thrissur, Kerala 680001 
M.K Travels, T.C Road, Near Arnana Bar & Restaurant, Thrissur, Kerala.  
Rhythm Holidays Room No: D8, First Floor, Muncipal Shopping Complex, Private Bus Stand, Kollam – Thirumangalam Rd, Chemmanthoor, Punalur, Kerala 691305 
Jeeva tours and travels kaithavalappil house, anandapuram, Anandapuram, Thrissur – 680305  
Tag: Wedding Tourist bus hire Thrissur,
Our List of Catering Service Providers in Thrissur for Wedding
Usthad Catering Services Thrissur, Usthad Catering Services, Pullokkaran house, DD Padi, PO, Thrissur, Kerala., Mannuthy, Thrissur, Kerala 680651  
Treat Catering Service, Thrissur, Loudepuram, St. Pauls Line, Kizhakkumpattukara, Thrissur, Kerala 680005 
Nila Catering Service India Pvt. Ltd. Sreelakshmi silks, Sastha Nagar, Patturaikkal, Thrissur, Kerala 680020 
Diamond Fort Caters   Ollur, Thrissur, Kerala 680306  
Ambiswami catering services, No.25/624,Karikath Lane,Behind DCC Office,, M.G. Road, Thrissur, Thrissur, Kerala 680001 
Melodia Events, Flamon Complex Opp:- Le Grand Auditorium Kuriachira-Main Road, Thrissur, Kerala 680006  
Harvest Caterers Pvt. Ltd. Harvest Avenue, Church Stop, Ollur, Thrissur, Kerala 680306 
Atham Wedding Hub, Sreekrishna Complex, Near Thiruvambady Temple, Shoranur Rd, Thrissur, Kerala 680020  
Rajmahal Ruchi – Catering Services in Kerala , First Floor, Ruchi Village Restaurant Building Calicut Road, Kambhipalam, Kunnamkulam, Thrissur, Kerala 680503  
Sreevalsam Catering Services, Medical College Approach Rd, Velappaya, Thrissur, Kerala 680596 
Blue Line Catering Thrissur,, Krishnapuram Village, Thrissur, Kerala 680655 
Cherpu Raju Catering Centre, Near Cherpu Bhagavathi Temple, Trissur, Cherpu, Kerala 680561  
Shalom Event Management, Poothamkulam Complex, Tana, Irinjalakuda, Thrissur, Kerala 680121 
Call: 8943906399 , 9995685289
Tag: Wedding Catering Service Thrissur, Kerala, Top Catering Service Providers in Kerala, All Catering Service Provider Thrissur
List of Famous Temples in Thrissur for Hindu Weddings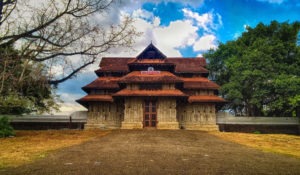 Kodungallur Sri Kurumba Bhagavathi Temple, Thrissur  
Triprayar Sri Rama Temple, Thrissur   
 Sri Krishna Temple, Guruvayur, Thrissur  
Mullathara Bhagavathy Temple, Guruvayoor   
Trikkur Mahadeva Temple, Thrissur   
Vilwadrinatha Temple  
Paramekkavu Bagavathi Temple  
Mammiyur Sri Mahadeva Temple, Guruvayur, Thrissur  
Chowalloor Shiva Temple, Kandanassery, Thrissur  
Thiruvambadi Sri Krishna Temple, Thrissur  
Poonkunnam Siva Temple  , Near Punkunnam Ground, Punkunnam, Thrissur, Kerala 680020  
Ammathiruvadi Temple Urakam, Thrissur, Kerala 680562  
Hindu Wedding Planning Service 
Famous Churches in Thrissur for Christian Weddings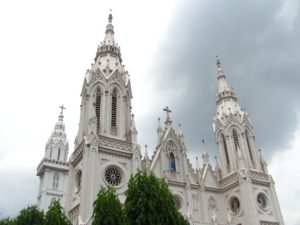 St. Antony's Forane Church, Ollur, Trissur (pilgrim Center of St. Raphael)  
Basilica of Our Lady of Dolours, Thrissur, Pallikkulam, Thrissur, Kerala 680001   
Our Lady of Lourdes Cathedral, Thrissur, East Fort, Thrissur, Kerala 680005   
St. Antony's Forane Church , Ollur, Thrissur, Kerala 680306  
Mary Matha Syro-Malabar Church, Ollur, Angels Nagar, Panamkuttichira, Thrissur, Kerala 680306   
Chaldean Syrian Church, Vinpy Nagar, Paravattani, Thrissur, Kerala 680005   
St. Joseph's Church, Kuriyachira, High Road, Kuriachira, Thrissur, Kerala 680006  
Chaldean Syrian Church, Kurisupalli, High Rd, Thrissur, Kerala 680001   
St. Mathew's Church, Kodungallur Shornur Highway Palakkal Thrissur, Kerala, Palakkal, Thrissur, Kerala 680306   
St. Thomas Church, Palayoor Road, Palayoor, Trichur District, Chavakkad, Kerala 680506  
St.Theresa's Ship Church Eravu, Thrissur Kanjani Vadanappally Rd, Arimbur, Kerala 680620  
Christian Wedding Planners Kerala 
Our List of Bridal and Groom Hair Stylists in Thrissur
Dazzle – make-up studio bridal makeup thrissur wedding makeup in thrissur, 26/374/10, Konchery Rd, Chembukkav, Thrissur, Kerala 680001  
Shafeenaz|Wedding Makeup|Beauty salon Near Kalyan Silks, Chembukkav, Swaraj Round East, Thrissur, Kerala 680001 
Vismaya Bridal Make-Up Studio 5th Floor, Sun Tower, East Fort, Thrissur, Kerala 680005  
Lakme salon No 21/582-6, First Floor,Salpa Complex, MG Road, Sankara Iyer Junction, Thrissur, Kerala 680004  
Sia Bridal Studio- Ladies Beauty Parlour Sudarsanam Building, Kairali Junction, West Nada, Guruvayoor, Thrissur, Kerala 680101   
Shafeenaz |Wedding Makeup|Beauty salon Near Kalyan Silks, Chembukkav, Swaraj Round East, Thrissur, Kerala 680001  
Lakme Salon Door no H21/522-6 salpa complex, Mg Road, Thrissur – 680001, Opp reliance trends   
La Broiche THATTIL NADAKK ALN COPMLEX, KURIAN CHIRA, Kuriachira, Thrissur – 680006, opp ST CHURCH   
Sia Bridal Studio- Ladies Beauty Parlour Sudarshanam, Kairali Junction, Guruvayur, Thrissur – 680101, Guruvayur Temple   
Aradhya Beauty Parlourin Kottappadi, Thrissur  
Suba's Bridal Makeup Studio Beauty Clinic Academy Poonkunnam Thrissur 680020 Kerala India   
Call: 8943906399 , 9995685289
Tag: Wedding Make-up Artist in Thrissur
Our Wedding Stage Designers & Decorators in Thrissur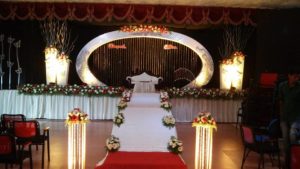 PIP'N PO-PO Stage Decorators, Puthanvettuvazhy, Nellangara East For, Pallikkulam, Thrissur, Kerala 680005  
Melodia Events Flamon Complex Opp:- Le Grand Auditorium Kuriachira-Main Road, Thrissur, Kerala 680006   
Swapnam Events and Wedding Planners, Room No 27, 2nd Floor, Sree Krishna Complex Shornur Rd,, Near Thiruvambady Temple, Thrissur, Kerala 680020  
Shalom Event Management Poothamkulam Complex, Tana, Irinjalakuda, Thrissur, Kerala 68012   
Dreams Decorators State Highway 27, Kuphoormeedu, Palakkad, Kerala 678001   
Chamayam Events & Wedding Planners Pazhanji, Thrissur – 680542, near jerusalem  
Rose Decorations Kolathur, Nellayi, Thrissur – 680305, Near Nh 47   
Yavanika Decorations, Sakthan Arcade, SAKHAN THAMBURAN NAGAR, Thrissur – 680001, NEAR MALL OF JOY  
Swapnam Events and Wedding Planners, Thrissur, Kerala, India 27, 2nd Floor, Sree Krishna Complex, Near Thiruvambady Temple 680001 Thrissur   
SnehaDeepam Stage & Events, Thoppinmoola,Aranattukara, Thrissur Kerala   
Call: 8943906399 , 9995685289
Tag: Wedding stage decorators Thrissur , Wedding Event Management Company in Thrissur
Our Wedding Card Service Providers in Thrissur
Wedding Gallery, XXV/945, Round West, Thrissur, Kerala 680001  
Impressions Wedding Cards, Impressions Castle, Thrissur – Palghat Rd, Paravattani, Thrissur, Kerala 680005   
Leba Arcade , High Rd, South Bazar, Veliyannur, Thrissur, Kerala 680001   
Quality Wedding Cards, Thiruvonam Buildings, Shornur Road, Patturaikkal, Thrissur, Kerala 680020   
Bridal Castle, Indoprint Square, Kokkalai, Thrissur, Kerala 680021  
Archana Wedding Card Shoppe, Kunnamkulam, Kerala 680503   
Galaxy Wedding Cards, Premier Tower, Near 680001., MG Road, Naikkanal, Thrissur, Kerala 680020  
Olive Cards, Door No. XXX/425 K, Sunny Junction Building, Near Usha Coffee House, North Junction Chalakudy, Thrissur, Kerala 680307  
If you are looking for a wedding event coordinator in Thrissur, Contact +91-8943906399
Tags: Destination wedding Planners Kerala , Wedding Event Management Company Thrissur, Wedding Planners Thrissur, Wedding Planners -Kunnamkulam – Chalakkudy, Kodungallur, Chavakka, Irinjalakuda, Wadakkancheri, Wedding planners Thrissur
Hindu Wedding Planners Thrissur, Muslim Wedding Planners Thrissur, Christian Wedding Planners Thrissur
Summary
Service Type
Wedding Event Management and Stage Decoration Thrissur
Provider Name
Wedding Planners in Thrissur
,
Thrissur
,
Kerala
-
Telephone No.8943906399
Area
Description
We Provide Perfect Wedding Coordination in Thrissur. We are specialized in Hindu Wedding, Christian Wedding and Muslim Wedding. Our Service including - Wedding Stage Decoration, Transportation, Hospitality, Etc