With 120+ weddings, we are one of the best wedding planners provides complete wedding event organizing in Kollam. If you are looking for a wedding planner in Kollam, contact us. Marriage, holy matrimony, unbreakable vows, promise to be together in sickness and in health; these are just some of the things that come to mind when one thinks of a wedding. These will all be happening in our lives on our wedding day. Thankfully we now have Top Wedding Planners Kerala and just about everywhere who can take care of this and much more.
Getting married in the maternal house, in one's backyard, in one's own city, might be a tad bit boring and even forgettable. In case one wants an out of the world wedding, Kerala is the place to do it! There are tons of Destination Wedding Planners Kerala has to offer who can take care of all small and big things for you. But where in Kerala would be ideal? Well, thankfully this God's Own Country has a lot to offer in terms of natural beauty as well as a perfect destination wedding spot. One such spot is the city of Kollam. Here are a few reasons as to why the city of Kollam would be an ideal spot for taking the vows:
Gateway to the backwaters
This quaint town is the gateway to the Venice of India. Thirty percent of Kollam is covered by the Ashtamudi Lake. Hence, if a lot of Houseboat Wedding Packages can be availed of. Of course Houseboat Wedding Planner Kerala can provide you with all the necessary details of these packages and the services included.
2. Architecturally beautiful temples
The city is dotted with numerous temples constructed in the old-styleelaborate architectural style.
3. Secluded beaches
In case a beach is on the mind, this town offers that too! The plus side is that these beaches are beautiful as well as secluded so one can get rid of the unnecessary crowd as well. The Thirumullavaram and Thangasseri beaches would be perfect for a Beach Wedding Kerala.
Why weddingplannerskerala.com are the best Wedding Planners in Kollam?
Now that the place is decided, someone needs to advice the bride, groom and the family on what to do, how to do and through whom to get it done. Worry not! Weddingplannerskerala.com is here for just that. Here are a few reasons as to why we're the best:
A To Z Services
From which venue to pick for what occasion to what outfit would best suit for making the wedding unforgettable, all services are provided under one umbrella named weddingplannerskerala.com
Pocket Friendly Prices
Our prices are competitive as well as affordable. But rest assured that lower price does not mean cheaper services. The quality will be the best irrespective of the price. Visit our office in Kollam to know more about the cost of wedding.
Customized Packages
All the packages related to catering, decoration, outfits, beautician can be packaged into one or can be customized as per your requirements as well.
Something For Everybody
Not just the bride and groom, we'd be happy to serve all the near and dear one of the hosts as per your instructions.
Friendly and Cooperative Staff
Right from our core team to the team of vendors and suppliers will be happy to answer your queries and resolve problems (if any) with complete cooperation and in a friendly manner.
A wedding can become memorable in two ways; either it was remarkably good or it went horribly wrong. We're here to assure you the first and ensure you that the latter will not happen. If wedding bells are ringing, God's Own Country is beckoning for the vows and weddingplannerskerala.com will help you take those vows.
List of Top Recognized Service vendors in

Kollam

that we can provides for the Wedding Arrangements 
List of  Wedding Photographers in Kollam
Check our below the list of cheap and best wedding photographers in Kollam. Get real contact details of all wedding Photographers in Kollam, Address, Pricing, Services offered, Location and Real reviews.
We arrange everything need for your wedding at low cost. Contact wedding Planners Kerala
Boney Panicker Candid Wedding Photography (Thiruvananthapuram and Kollam) 

Wedplanner Wedding Studio RP Mall (Quilon) Kollam  
Amore Wedding Studio- Wedding Photographer Kollam  
Jamini peacock wedding Photography (Kochi and Kollam) 
Sankar photography, Kollam 
Tween Studios- Wedding Photographer and Wedding Planner in Kallumthazham Kollam 
Ansari Photography Kollam, Kerala 
Artech Wedding Team- Leading Wedding Photographers in Chinnakada of Kollam Kerala
Tree Cross Photography, Kollam Kerala 
Blacking Shot Movie Makers, Cheap Wedding Videographers and Photographers in Manjappara, Kollam- Kerala 
Deepthi Color Lab- Wedding Photography and Videography Studio Kollam 
Dazzle Family Studio- Dazzle Photography in Kollam Kerala 
Nithin parameswar photography – Wedding Photographer and Event Planner (Kollam and Trivandrum)  
#Best Photographers List in Kollam For Planned marriage Photography, Candid Wedding Photographers in Kollam
List of Auditoriums / Convention centers in Kollam for Weddings
We are the leading wedding event coordinator in Kerala. Contact us. Our  marriage arrangers in Kollam will help you to plan & find the best wedding auditoriums and convention centers in Kollam. Get here the list of top Wedding venues in Kollam for Hindu, Muslim and Christian weddings, Pricing, Reviews etc.
Chematharayil Auditorium, Aramathumadom, Karunagappally 
Ideal Auditorium karunagapally, kollam  
Rajadhani Auditorium and convention center Idakkulangara, Veluthamanal Rd, Edakulangara, Kerala  
Friendship Auditorium, Karunagappally 
Puthumannel Auditorium, Karunagappally
Sneha Auditorium, Thevalakkara, Kollam Kerala
V.M Wedding Auditorium, Manappalli 
Kairali Kalyana Auditorium, Ochira, kollam 
Mythri Kalyanamandapam Auditorium, Kannettil Kollam
Sopanam Auditorium, kollam kerala  
SunBay Auditorium, Wedding Venue Kollam Kerala 
Sumangali Auditorium, Banquet Hall, Kollam Kerala  
Dr. Alexander Mar Thoma Valiya Metropolitan Smaraka Auditorium, Kollam  
Sana Auditorium, Kollam  
Jala Darshini, Thevally, Kollam
Sumayya Auditorium, Kottiyam, Kollam  
Ebenezer Park,  Banquet Hall for weddings NH-744, Kollam  
Shilpa Auditorium for Hindu, Christian and Muslim marriages in Kottarakara, Kerala 
Dhanya auditorium for Kerala wedding, Kottarakara 
List of Hotels and Resorts in Kollam for Weddings Kerala
See the real list of hotels and resorts in Kollam for weddings. Contact us to organize your wedding at a best destination in Kollam Kerala at cheaper price.
The Quilon Beach Hotel & Convention Centre, Kollam  
City Hotel, Wedding convention center Kollam  
Hotel Allseason, for marriages in Kollam  
Hotel Allseason, Kollam  
The Raviz Resort and Spa, Ashtamudi  
Hotel Ambalakkara Kottarakkara  
Fragrant Nature Backwater Resort & Ayurveda Spa, Kollam  
Krishnatheeram Ayur Holy Beach Resort, Varkala   (0 / 5)
Nani 3 star luxury hotel boutique hotel, Kollam  
Symphony Hills Resort, Punalur  
Contour Jungle Resort, Punalur   
List of Famous Temples in Kollam for Hindu Weddings
Find the list of Famous Temples in Kollam for Hindu Weddings. Plan your weddings with Weddingplanners.com, the leading Hindu wedding event organizer in Kerala State.
1.Anayadi Pazhayidam Narasimha Temple, Kollam 
2.Ammachiveedu Muhurthi Temple 
3. Chavara Sree Krishna Temple. 
4. Kodimootil Sree Bhadrakali Temple. 
5. Kottarakkara Ganapathy Temple. 
6. Kottarakulam Maha Ganapathy Temple.
7. Kottukal Rock Cut Cave Temple.  
8.Matha Amritanandamayi Asram.
Famous Churches in Kollam for Christian Weddings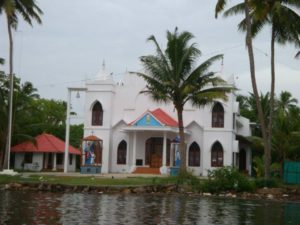 Check out the list of Churches in Kollam for the Christian Weddings. Contact weddingplannerskerala.com the leading Christian Wedding Planners in Kollam, Kerala
St. Thomas Church, Town limit Kilikolloor, Vezhapra kollam 691004 India 
Mount Holy Cross Urukunnu Kollam, Kerala 691329 India 
Commission for Catechetics, Bishop Catalani Centre Kollam, Kerala 691001 India
St. Sebastian's Latin Catholic Church, Quilon, India 
Thommasleeha Pally – St Thomas Syro Malabar Church, Kollam 
St Sebastian's Church Kollam 
CSI Christ Church  Bharanikavu – Kollam Rd, Chamkkada, Kollam, Kerala 691001 
MCYM Meenkulam st.Mary's Church, Kollam 
Wedding Stage Designers & Decorators in Kollam
WeddingPlannerskerala.com , the leading wedding planners group in Kerala will help you to pick the wedding stage decorators in Kollam city or any other places in Kerala.
ALLEPPEY Marriage Stage DECORATIONS AND CATERING SERVICES, Kollam 
Dream Makerz 4U Cheap Wedding stage decorators in kollam 
Media Fox events, Leading Wedding and Event  Planning Company in Kollam, Kerala  
Deepz events, Kollam  
Sreesaaj Decorators And Event Management Company, Kollam 
List of Bridal and Groom Hair Stylists in Kollam
We are listing below some of the topest & Cheapest Bridal and Groom Hair Stylists in Kollam. We are the leading Destination Wedding Planner in Kerala. Now, Contact us for Kerala Wedding Packages .
Ashtamudi Unisex Beauty Salon Kollam Kerala 
Makeover V2.0 Salon n Spa Lounge, – Wedding Hair Stylist Kollam Kerala 
Jajis innovation Unisex Beauty Clinic with Spa & Hair studio Taluk Kachery, Kollam, Kerala 691001 
Naturals Lounge, RV Complex, Kappalandimukku, Pattathanam P.O, Polayathodu, Kollam, Kerala 691021 
Glamora Unisex Beauty Concepts, TV Plaza, Chinnakkada, Chamkkada, Kollam, Kerala 691001 
Le Beauté Bridal Makeup Studio Jawahar Junction, Pattathanam, Jawahar Nagar, Chammamukku, Kollam, Kerala 691010 
#best beauty parlour in kollam , # Best Destination Wedding Planners in Kollam
List of Catering Service Providers in Kollam for Wedding
Here below we providing a best and affordable catering services in Kollam Kerala. Get best deals of their through us.
 Pooja Wedding Caterers for Hindu, Christian and Muslim Weddings Thevally  
Grand Fries Wedding Catering Service in Kollam 
Saras Events & Caterers, Punalur Kollam Kerala 
Tasty Caterers, Kottarakkara, Kollam – 691531 
Avittam Wedding Catering Service – Kerala India Polayathodu, Kollam – 691021 
Sahara Catering Service, Alappad, Kollam – 690019 
Royal Catering Services Kallumthazham, Kollam – 691004 
Souparnika Catering, Umaya nalloor, Kollam – 691589 
Pearl Cafe Catering – Cheapest Wedding Catering Service Provider in Karunagappally Kerala 
Splendid Caterers, Vasanth Vihar, Lekshminada, Kollam, Kerala 691013 
Gurudeva Catering Service, Polayathode-Chayakkadamukku Rd, Mundakkal, Kollam, Kerala 691016 
Luxury / Semi-Luxury Bus Service Providers For Weddings in Kollam
Find here the List of all Tourist Bus operators in Kollam, Kerala for weddings, Pricing / Charges, reviews Address etc.
Krishna Tours And Travels, Kottamukku Main Road, Thirumullavaram, Kollam – 691013 – Provide Buses Cars and Mini Cabs for Weddings. Book the services through weddingplannerskerala.com – the leading wedding planners in Kerala   
Vipanchika Travels , Kottiyam, Kollam – 691571  
Ganga Travels, Parmanand, Neendakara, Kollam – 691582,   
Sri Kannan Travels, Rohini Building, Asramom Road, Asramom, Kollam – 691001  
Kuttiyil Tours and Travels, Kollam, Kerala  
Punchiry Travels Kottiyam, Kollam   
SAUPARNIKA TOURS & TRAVELS, BRM BUILDING, CHENGAMANADU, KOTTARAKKARA CHENGAMANADU JUNCTION, Kottarakkara, Kollam – 691557  
Wedding Card Service Providers in Kollam

Find here the contact address, Phone Number, Reviews and Pricing of Top Wedding Card Service Providers in Kollam.
INVITE WEDDING CARDS, Paikada road, Andamukkom, Kollam, Kerala 691001 

Josarts Offset Process,  Tillery Rd Kottarakkara 

Hareesh Paper & Cards, A leading wedding Card Store in Kollam Kerala, Chinnakada, Kollam, Kerala 691001 

Murahari Cards, Kollam  

Josarts Offset Process – Wedding Card Designer and Supplier (Malayalam and English) in Kollam Kerala. 

Giriraj Wedding Cards, First Floor, Pattathuvilla Plaza, Kollam – 691001, Vadayattukotta Road,Near Unichakkam Vedu Temple 

Pooja wedding studio

 – Leading Wedding card creators in Kollam, Kerala 691009 
Plan your wedding in Kollam with weddingplannerskerala.com. Destination wedding Planners in Kollam