The Ultimate Wedding Checklist from Kerala Wedding Planners for Hindu Wedding, Christian Wedding and Muslim Wedding. The Wedding Checklist is essential for making the wedding event without reproved by someone.
Kerala-Wedding-Planners (www.weddingplannerskerala.com)  – Checklist
Kerala Wedding Planners is a leading Wedding Stage Decoration and Event Management Company based in 90A, First Floor, Kadavanthra, Kochi Kerala – 682020.
Start your Wedding Planning at least 5 Months. Prepare a schedule of to-do-list for each day. This makes things easier. Here we are explaining the suggestive methods for organizing your wedding trouble free.
Questions and Clarifications regarding Wedding Planning put on the comment section below. Your query will resolve in next 10 Minutes.
5 – 3 Months to Go
Wedding Planning
Choose a Good Wedding Planner like Kerala Wedding Planners  or plan thing as given in the schedule below
Choose your wedding season and finalize the date (Note: In Kerala, Wedding season starts from Aug 1)
Decide your correct wedding budget. The main things Concerned with the Wedding Budget are – Jewels, Wedding Clothes, Wedding Venue, Food and Wine, Wedding Stage Decoration, Wedding Photography, Hospitality etc. Keep the budget in mind and do an approximate headcount for each event.
Create a Whatsapp Group for your wedding- Include those who can give suggestions and can financially monitoring the wedding expenses.
Hire a Wedding planner for financial aid like Wedding Loan and complete wedding executions etc.
Venue
Finalize the venue. But before that, you should have a rough idea of the number of guests attending the event. You have to keep this thing in mind before booking the venue.
Wedding Invitation Cards: Go Through the Wedding Invitation Card and finalize one.
Invitations
Finalize the wedding stage designs and wordings.
Order the wedding cards and start distributing it. Probably, this should be the next thing you do after confirming the wedding hall.
3 months – 1week to go       
Wedding Stage Decoration
Research on the Wedding Themes you like. A Good Wedding Planner will help you to find the perfect stage decoration designs. You can also find some good wedding stage decorators from their offered décor ideas.
Venue
Pay advance to the venue. Ask them in-detail about their rules and regulations such as restriction timing for the vendors, ask them an arrangement of tables and chairs (chair cover and table covers as well) etc.
If you needed a venue for the reception, Haldi and Sangeeth ceremony, find suitable venues for that as well.
Stage Decoration
Confirm Your Stage Design. This design and the colour combination should match with bride and groom's dress.
Note: Kerala Wedding Planners have perfect stage decoration designs. Contact us at 8943 906 399 for the services.
Catering
Go for food tasting with shortlisted caters. A good wedding planner will definitely help you in this case.
Finalize the menu and pay the advance money for the confirmation.
 Entertainment
Research and Decide the Kind of Entertainment you need per functions.
For Hindu Weddings, you need traditional Bands like Nadhaswaram, Welcome Girls, Kathakali
For Christian you can add fusion music band, anchoring girls, Ganamela / Orchestra Troupe, Wedding Entrance Dance Performing Troupes, Welcome Girls
For Muslim Weddings, You need Oppana, Sufi Dance, Duffmuttu, Anchoring Girls, Welcome Girls etc
For Haldi/ Mehendi / Wedding Reception Functions – you can add entertainments like DJ, Fusion Music etc.
The Choice is ultimately yours!
For Wedding Stage Decoration Call 8943 906 399 
Photography
Research photographers online: Check their portfolio and packages. Then Finalize photographer. Prepare location chart for 'Save the Date' video and 'Post Wedding shoot.' Keep a good understanding with your wedding photographer.
Mehendi Artists
Research bit about various mehendi designs and artists. Finalize your favourite mehndi artist.
Makeup
Book an appointment with the leading make-up artist and talk about with them if you needed any beauty treatment required.
Wedding Jewelry and Bridal Wear
Walk-in to the best shop in the town, browse designs and approximate costs. Pre-decide the list of things you required, make an estimate before walk-in with your family members.
One Week before…..
Schedule all your wedding day tasks. Make sure you hand over the responsibility to everyone – including the supervising stage decoration, transportation, hospitality arrangement for guests, catering service etc.
Wedding Day:
Make sure you feel as relaxed as ever. Weddings in Kerala keeping lots of traditional (both religion and family based) things. Kerala Wedding Planners – witnessed these many rituals and traditions at many events.
Kerala Wedding Planners already wrote the list of ritual things required on Hindu Wedding Day, Christian Wedding Day and Muslim Wedding Day. Click on the respective links and scroll to the bottom to see the notes.
Ask a Question Regarding Wedding Planning Or rates of Wedding Stage Decoration In Kerala. Comment Below . We Kerala Wedding Planners - Kochi will solve your Doubt in 5 Minutes. Try Now. Try Now.
Summary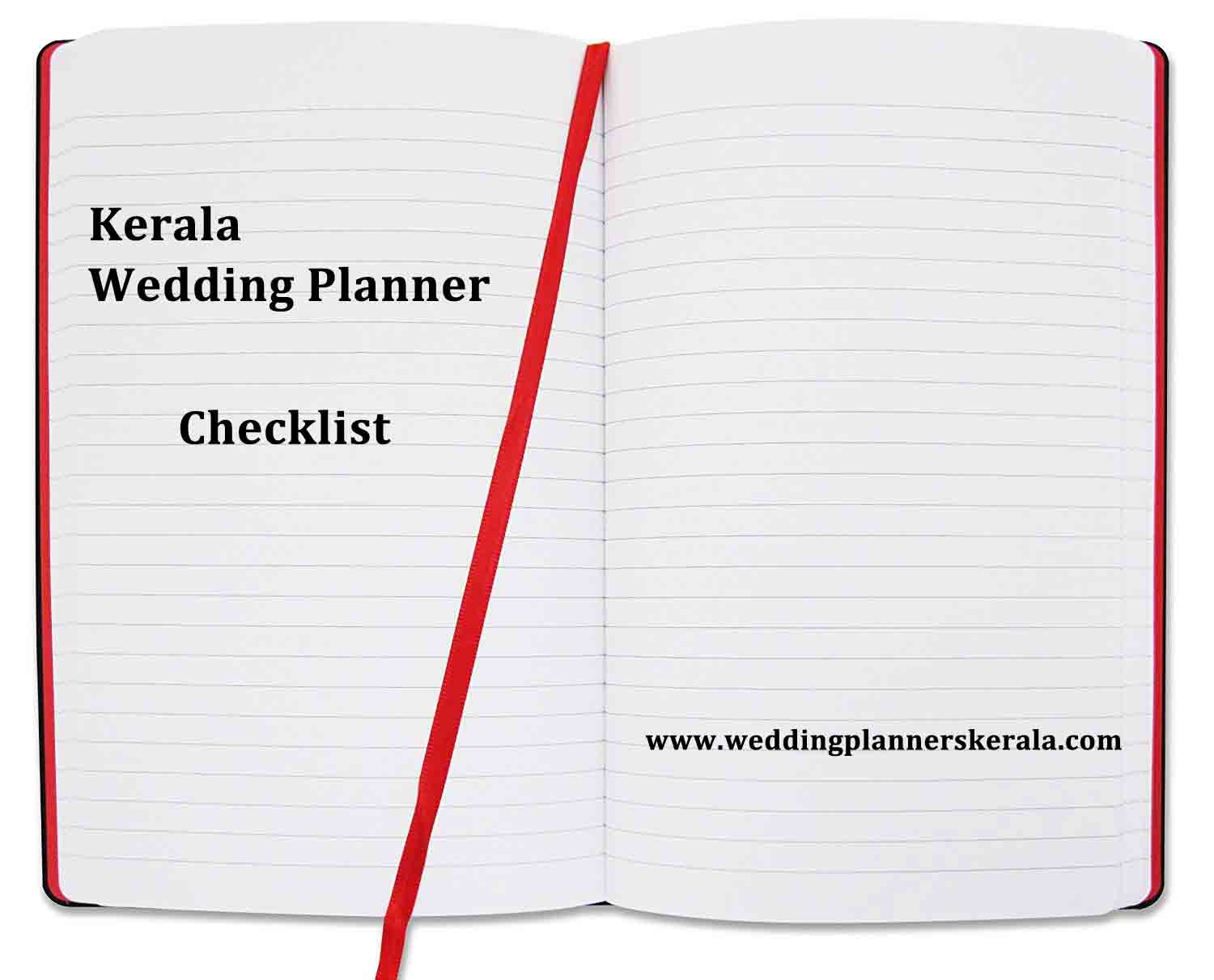 Article Name
Kerala Wedding Planner Checklist
Description
Kerala Wedding Planner Checklist for Hindu Weddings, Christian Weddings and Muslim Weddings. Kerala Wedding Planners providing services such as wedding stage decoration, Wedding Event management
Author
Publisher Name
Kerala Wedding Planners www.weddingplannerskerala.com