Welcome to the Website of Top and Best Wedding Planners in Kerala. We will help you for organizing your weddings effortlessly and economically. We are specialized in organizing all kinds of weddings.
Weddingplannerskerala.com is the most trusted names in the Wedding Planning and Organizing Business in Kerala since many years.  From finding a venue, selecting photographers, arranging food and drinks to arranging transports is everything the part of wedding planners' duty.
A good wedding planner can save the client money. We are aware about the best and cheap vendors in the market and how to negotiate. As a leading wedding planner in Kerala, Our top-level service knowledge and bargaining power will help a better extend to reduce the original fees of many general services and goods associated with a wedding ceremony. Literarily, you can save money by hiring us.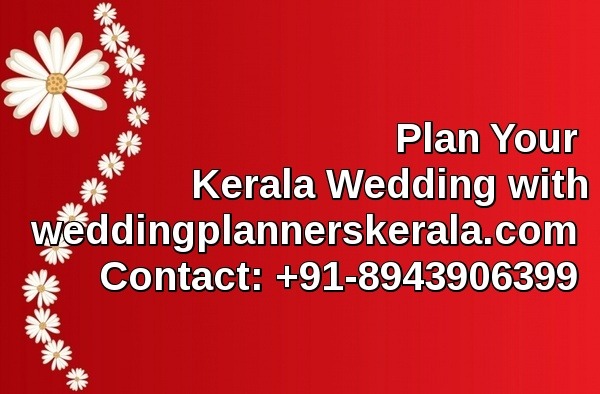 What We Do
From arranging your wedding venue, preparing wedding theme, delivering food & drink, arranging dress and hair stylist, to booking transport services are our duties.
Consulting
We are the Leading Wedding Consulting Companies in Kerala. We are here to help you with finest advices about how to execute the weddings beautifully within the budget limits. The weddingplannerskerala.com has experience across a wide range of wedding themes and budgets. We are specialized in all cast weddings in kerala with the customs for most castes and religions. Contact us for the wedding consulting services such as –Wedding venue booking, Wedding Theme Designing, Hair stylist for the couples and guests, transportation and legal assistance.
Planning
As a leading Wedding Planners in Kerala, we know how to execute a wedding ceremony beautifully. We will make sure that no work left undone, as our team will be there for you in every step of the way. We are the committed team of Wedding Planners based in Kochi, Kerala for providing exceptional wedding planning services in Kerala for the needy ones such as – designing the event, Finding Prospective vendors, locating best venues, negotiating contracts and all other necessary factors that go into planning an event.
Coordination
We provides wedding coordination services across major cities and areas in Kerala including Kochi, Trivandrum, Calicut, Ernakulam Dist, Kollam, Thrissur etc.  We at weddingplannerskerala.com will work with you to plan a wedding according to your desire, needs and budget. On the wedding day, we are responsible to arrange all events beautifully and perfectly so you and your loved ones will be enjoying the day -not to managing it. Contact us today for Enquires
Weddingplannerskerala.com destination Wedding Planning Services across kerala. We are the one stop trusted destination for your upcoming wedding in Kerala that caters all your needs perfectly. Our best services covers all the aspects of a wedding perfectly, which making us to include in the list of Top  destination wedding organizers in Kerala.
While we are based in Ernakulam (Kochi), we extend our Wedding planning and coordination services in Trivandrum (Thiruvananthapuram), Kottayam, Thiruvalla, Kollam (Quilon), Alleppey (Alappuzha), Thrissur, and Calicut. We are offering a wide range of customized services that depends on your desire and needs. Contact us today at +91-8943906399. Happy to serve you always!
Average rating:
1 reviews
Jul 24, 2017
Overall Satisfied
I taken their service. Provided every things as said in the Contract. The Pricing is also reasonable.Thanks a lot to their support Staff Rashmi. Wishing you all the team of wedding Planner Kerala a Happy Business Ahead
Thank You for the Response. Keep In Touch with us if you have any wedding Planner Requirement in Kerala.